Here are some simple recipe"s
Smoked salmon risotto
Serves 4 - 365 kcals per serving
KcalsFatSat fatCarbsSugarProteinSalt3655.9g2.0g69.7g4.2g13.2g3.74g
Ingredients
Frylight

300g risotto rice

1 onion, chopped

100g mange tout, sliced

120g smoked salmon trimmings

1.2 litres of vegetable stock

Juice of 1 lemon
Method
Fry the onion in the Frylight until browned.

Add the rice and stir well, until the rice becomes translucent around the edges.

Slowly add the stock, stir and bring to the boil, simmer for 15 minutes.

Add the mange tout and salmon, simmer for a further 5 minutes, continuously stirring.

Add the lemon juice, stir well and serve.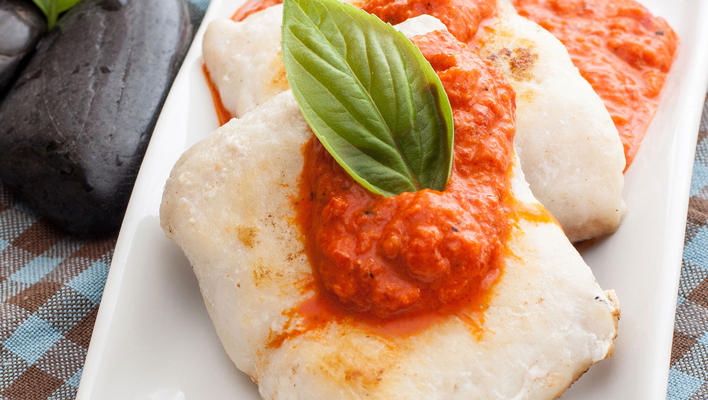 Cod with chorizo

Serves 4 - 220 kcals per serving

KcalsFatSat fatCarbsSugarProteinSalt2209.6g2.9g4.4g4.1g27.5g1.75g
Ingredients
80g Spanish chorizo

500g skinless and boneless cod loin

400g tin of chopped tomatoes

30g flat leaf parsley

5g sweet or smoked paprika

10ml extra virgin olive oil

10ml lemon juice

Black pepper to season
Method
Season the cod with black pepper and sprinkle over the paprika and lemon juice. Drizzle with a little olive oil and bake uncovered at 180°C for 15-20 minutes until the fish is just firm and opaque.

Meanwhile heat remaining oil in a small saucepan over a medium heat.

Chop up the chorizo, add to the pan and cook until the fat is rendered (about 2 minutes), drain off excess fat.

Add the tomatoes to the pan and bring to a simmer, turn down the heat. Season with black pepper and stir in roughly chopped flat leaf parsley.

Top fish with chorizo/tomato mixture and serve with vegetables of your choice. Just remember to add the extra calories.
Spicy fish cakes

Serves 6 - 134 kcals per serving

KcalsFatSat fatCarbsSugarProteinSalt1343.1g0.4g8.8g7.1g18.0g1.19g
Ingredients
600g skinless and boneless cod fillets

6 spring onions

1 tsp chilli powder

1 tbsp Thai fish sauce

Zest and juice of 1 lime

1 tbsp vegetable oil

6 tbsp sweet chilli dipping sauce

Handful of coriander
Method
Place the cod fillets, spring onions, chilli powder, Thai fish sauce, lime juice and zest and a good handful of fresh coriander in a food processor and blend until smooth.

Divide the mixture into 12 and shape into fish cakes.

Place on a plate, cover and chill for 30 minutes.

Heat a little oil in a shallow pan and cook the fish cakes, in batches, for about 5 minutes, turn and cook for a further 3 minutes or until firm.

Serve with sweet chilli dipping sauce.
Prawn madras

Serves 2 - 301 kcals per serving

KcalsFatSat fatCarbsSugarProteinSalt3014.0g0.7g22.9g17.8g43.3g4.67g
Ingredients
Frylight

¼ tsp mustard seeds

¼ tsp cumin seed

¼ tsp turmeric

¾ tsp garam masala

2 tsp chilli powder

4 cloves garlic, crushed

1 large onion, chopped

300g passata

Handful of coriander, chopped

500g ready to eat prawns

2 tbsp fat free natural yogurt
Method
Spray the Frylight into a frying pan or wok.

Add the mustard and cumin seeds until they start to pop a little after a few minutes.

Add the onion and garlic and fry until brown.

Add the passata, turmeric, garam masala, coriander and chilli powder. Simmer for 5-10 minutes, adding water as required.

Add the prawns and heat through. Take off the heat, and stir in the yogurt.
Alternative fish & chips

Serves 2 - 571 kcals per serving

KcalsFatSat fatCarbsSugarProteinSalt57111.7g2.1g77.0g3.5g42.8g0.87g
Ingredients
300g skinless and boneless haddock fillets

400g potatoes, raw

½ tbsp extra virgin olive oil

1 medium egg

50g plain flour

80g fresh breadcrumbs

1 small lemon

100g garden peas, frozen

Black pepper to season
Method
Peel the potatoes and slice into equal chunky chip sized portions. Cook in an Actifry with ½ tbsp of olive oil, as per the instructions.*

Meanwhile, put the egg and breadcrumbs into 2 separate bowls.

Sprinkle the flour evenly over the fish, then coat with the egg, then the breadcrumbs and sprinkle over some pepper.

Bake the fish in the oven for 20 minutes at 200°C.

When the fish and chips are almost cooked, boil the peas for 5 minutes.

Serve the fish, chips and peas with a wedge of lemon.
*If you don't have an Actifry, par boil the potatoes for around 4-5 minutes, then evenly spread on a baking tray with a little Frylight and cook for 30 minutes at 200°C.